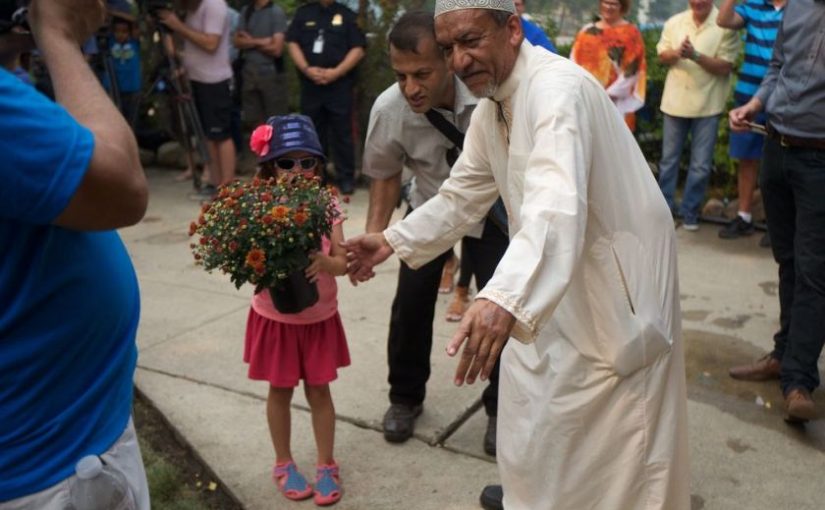 On Sept. 20, city police charged a 24-year-old man with uttering death threats after Facebook posts were reported to them. The posts — status updates and comments attributed to the man on a news article shared on his personal Facebook page — threatened the execution of "Saudi leaders" on the university campus that afternoon.
Police took the man into custody and found his vehicle at Wiggins Avenue and Aird Street.  He is expected to make a court appearance on Oct. 21.
According to the university's administration, there are indications that mental illness is a factor.
The incident, along with the attack on Abu Sheikh (pictured above during a solidarity walk), a Muslim elder wearing traditional clothing and walking home from morning prayers in July not too far away from the campus, have heightened concerns, said Muslim Student Association secretary Iqra Khan.
"I think the level of concern for the Muslims, us being afraid, it was quite high for a very long time. So, this threat, this incident, it just ignited what was already there. We went back to being very scared and feeling very unsafe once again," she said.
YouTube: Abu Sheikh attacked by truck driver while walking home from Saskatoon mosque
Dr. Joel Schindel (pictured above at the Musalla Prayer Room at the U of  S), a Canadian Muslim Chaplain Organization chaplain who works with students at the U of S, said people have felt emboldened in recent years. He described a change in attitude on campus toward Muslim students since he was a student. Before "the odd guy" would approach a student and they could talk to that person, he said.
"Now, it's becoming very scary, because these people are everyday people you would expect wouldn't be saying stuff like this and being that ignorant. Now, it's like there are literally physical things that have been happening to people, and so it's really scary."
The violence threatened in the Facebook posts was of particular concern.
A female student forwarded a written report to Schindel stating that she was approached by the man charged in the recent incident on campus and harassed her about her hijab. As of last week, city police had not received a report.
"It's getting, unfortunately, closer and closer to home," Schindel said, adding there is concern that the university hasn't reached out to Muslim students The university acknowledges it did not do that.
"Last week's incident, in my opinion, had to do with an individual posting violent threats onto Facebook, demonstrating, in my opinion, a significant mental health issue and what resulted in an immediate intervention by the Saskatoon police to get that person into custody and presumably to get that person some help," said Patti McDougall, vice-provost of teaching and learning at the university.
The university has banned the suspect from campus.
McDougall said the university has responded to questions after the incident, including why the AlertUS emergency notification system wasn't activated. The system is only used when the campus is in imminent danger, she said.
To read the complete article, visit the Star Phoenix.