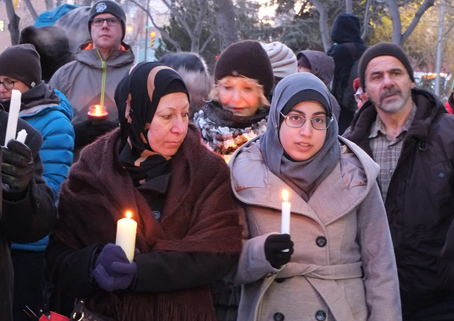 This article was first published on the following 
source
.
Hundreds gathered in the cold Jan. 31 for an outdoor vigil at Saskatoon City Hall in support of those killed in a mosque shooting in Quebec, and those affected by the U.S. travel ban on travel from seven Muslim countries. (Photo Kiply Yaworski)
SASKATOON — Local residents and community leaders have been expressing solidarity with the Muslim community in the wake of a Jan. 29 deadly shooting at an Islamic prayer centre in Quebec City.
Alexandre Bissonnette, a 27-year-old student at Laval University, has been charged with six counts of first-degree murder and several counts of attempted murder in the shooting at Centre Culturel Islamique de Quebec, which left six men dead and some 20 others wounded.
Many are also speaking out against the American president's executive order, signed two days before the shooting, which bans refugees, migrants and foreign nationals from seven predominantly Muslim countries.
A number of local prayer services and public rallies have been held, including a public prayer service at the Islamic Centre in Saskatoon Jan. 30, public rallies Jan. 30 in Regina, Jan. 31 in Saskatoon, and Feb. 2 in Prince Albert, events at the University of Saskatchewan, as well as an interfaith prayer service Feb. 5 at St. John's Anglican Cathedral in Saskatoon.
The Catholic bishops of Saskatchewan were among leaders in the community to address the shooting at the mosque, sending a message to the Muslim community Jan. 30 expressing sorrow and solidarity.
"We stand together with you and leaders of all faith communities in condemning violence, particularly violence in the name of God, whose name is peace. Violence profanes the name of God," wrote the bishops.
"Such inconceivable violence violates both the sacredness of human life as well as the respect due to a community at prayer and its place of worship," said the statement, signed by Archbishop Donald Bolen of the Archdiocese of Regina, Archbishop Murray Chatlain of the Archdiocese of Keewatin-Le Pas, Bishop Bryan Bayda of the Eparchy of Saskatoon, Bishop Albert Thévenot of the Diocese of Prince Albert, and diocesan administrator Rev. Kevin McGee of the Diocese of Saskatoon.
The message quoted Pope Francis' 2017 message for the World Day of Peace: "May we dedicate ourselves prayerfully and actively to banishing violence from our hearts, words, and deeds, to becoming non-violent people and to building non-violent communities that care for our common home. Nothing is impossible if we turn to God in prayer. Everyone can be an artisan of peace."
The executive order restricting travel to the U.S. has affected students, faculties and staff at Canada's 97 member universities, according to a statement from Universities Canada. The order poses an impediment "to the free flow of people and ideas and to the values of diversity, inclusion and openness that are hallmarks of a strong and healthy society."
Hundreds attended the Saskatoon rally held at City Hall Jan. 31, braving bitter cold under a crescent moon to express sorrow, stand in solidarity, and call for action in response to recent events. Many held candles during the hour-long vigil, while others signed a declaration of support, or carried signs calling for peace and inclusion. The rally opened with a prayer and song by a First Nations elder.
Organizer Arisha Nazir, a member of the Ahmadiyya Muslim Jama'at in Saskatoon, said the event was held to show solidarity and support to all people affected by the Muslim ban and other actions of the U.S. government, as well as to express sorrow and support for the family and friends of those killed or hurt in the tragic attack on the Sainte Foy mosque.
During the vigil Arif Juma, director of religious affairs at the Islamic Centre of Saskatchewan (Saskatoon), said, "We as Canadians condemn this act of terror. In Canada there is no room for such hate."
Saskatoon Mayor Charlie Clark also spoke, standing alongside six city councilors. He described a special meeting of council earlier that day, held to address the U.S. travel ban and the tragic events in Quebec City.
Clark read statements issued by city council about the recent events. "Saskatoon has a long history of being a safe place of arrival for people seeking refuge, beginning with the welcome received from the First Nations people to the first settlers on this land. In just the past 13 months, individuals and groups throughout our community have been supporting hundreds of people from Syria and Iraq fleeing conflict and persecution on their home soil," said the first statement about the American president's executive order.
"We offer any support that we can to Prime Minister Trudeau and Premier Wall in their commitment to assist people affected by the U.S. travel ban, and we will continue to welcome refugees and new Canadians to Saskatoon because we believe that our strength as a city lies in our capacity to be inclusive, resilient and a compassionate city for all."
Standing below flags lowered to half-mast, Clark continued, reading council's statement about the shooting: "We condemn all acts of violence, and this is a chance for all of us in Saskatoon to stand together, neighbour-to-neighbour, to ensure everyone feels safe in our community. Our strength is when we work together, continue to build relationships based on understanding and respect with each other, and show that all peoples of faiths are valued and important in our community."
Don Kossick also spoke, suggesting that Saskatoon officially become a "Sanctuary City," joining communities across the United States that are protecting undocumented citizens and others across Canada that are reaching out to assist stranded travellers and to welcome refugees.
Ayisha Kurji, a physician specializing in pediatrics in Saskatoon, described her initial fear of speaking out at the rally. "I was afraid. Afraid to identify myself as a Muslim, afraid to speak up, afraid I wouldn't have the words, that I would say something that would offend or be taken out of context, that I would be judged," she said, but added that she reconsidered when considering how to explain this to her young children.
Kurji said she turned to her faith and the call to show kindness and compassion. "Families were hurt, and that is not OK. These families feel alone now, and so we are here. We light candles for them and we show them we are with them, so they feel stronger, and those that made the bad choices they made will know that we will not let this happen; that this is not okay. It is not fair and it is not OK."
She added: "My faith does not teach me to hurt. It teaches me to love. My faith does not teach me that there is only one way to God. It teaches me that there are many. My faith does not teach me that I am less because I am a woman. It teaches me that I am equal. And so I am sharing my voice with you, because I am lucky enough to have one, and because our voices are the most powerful thing that we have. We need to speak up and we need to speak out."
Joel Schindel, a family physician and a member of the Muslim chaplaincy team at the University of Saskatchewan, called on the crowd to address the rise of Islamaphobia, which he described as "one of the main issues that has contributed to this horrific tragedy," and stressed the importance of creating safe spaces on campus and in the community for all people.
He said that Muslims are eager to engage their neighbours — and not just at times of tragedy. "We are waiting to engage you, because we are your neighbours; we are your classmates, your teachers, your co-workers, your doctors, your lawyers, your bus drivers — and we would love for all of you to do whatever you can to strive to better understand the way of life that we call Islam."
Working against Islamophobia and hatred will result in a better city, a better province and a better country, Schindel said.